There are many different ways to attract visitors/readers to your blog. You could just hope that they stumble across your site randomly, but that's not a very proactive method. One major source of traffic is going to be from people using search engines like Google to discover articles/posts on topics that are interesting to them – and you can help by making it easier for your blog to be indexed by the search engines.
You may or may not be familiar with the term "SEO" – it stands for "Search Engine Optimization", and it's kind of a catch-all term for "making your blog or website show up higher in Google." There are TONS of tricks and tips about increasing your SEO, and frankly, quite a few of them are snake oil and probably have nothing to do with actual results.
One thing that DOES make a difference in your SEO is the format of your URL's. By default, each post will have a URL kind of like this: www.yourblog.com/?p=138. That URL doesn't tell anyone (be they a person or a search engine) anything about the content on that page. So we need to change the URL to be more "SEO-friendly", i.e., to a URL that gives a teasing little peek into the content of the post.
The first step is to go into your WordPress control panel, and scroll down on the left to the link for "Settings". Under that heading, you'll see a link for "Permalinks". Click on it. You will see a screen that looks kind of like this: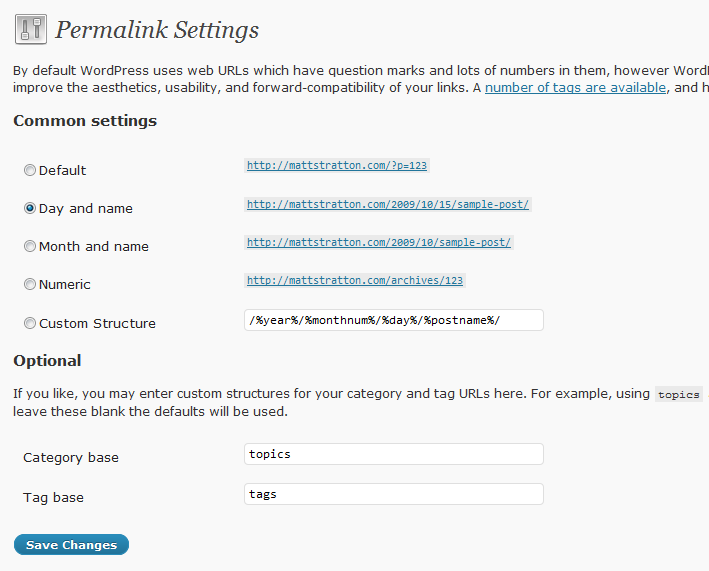 I have my permalinks set up to use the format of "day and name", which means that I can have multiple posts that have the same name, but they are made unique by the inclusion of the year/month/date. You might be more interested in doing just month and name…or even go into "custom structure" and make it in yet another format.
Once you've made this change, you will now find it essential to create an SEO-friendly title in your permalink when you create new posts. For example, if I look at the default permalink for this post, it just takes the title – which is a little wordy:

If I'd rather have a bit of a shorter permalink, I would click "edit" to change it to something I think is better. In this case, I'm pretty pleased with the permalink, so I'll leave it as it is.
Basically, think about the ways in which someone might search for the post – that's what you want the permalink to be. If you post was about cranberry sauce recipes, you wouldn't want the permalink to be "Shane's Super Awesome Cranberry Sauce Recipe" – even though that would be a great title for the post. The permalink should be "cranberry-sauce-recipe". Dig?
There are several other things to bear in mind when it comes to SEO and WordPress. There's a great plugin called "All in One SEO Pack" which can help a lot. Unfortunately, the latest version of the plugin is not currently working on my installation. Once I get it working again, however, I'll post a follow-up blog that dives into the advantages and tricks of using that plugin.
What SEO tricks and tips do you have for WordPress? Share them in the comments!
---