Since I really should be posting in my blog more, I am doing this Ten on Tuesday post, inspired by my pal Erin.
1. What do you order at Starbucks?
Without fail, I order a grande mocha, skim, no whip. The only exception is the occasional peppermint mocha during holiday time (especially when the Bucks is doing their BOGO deal).
2. Where is your favorite place to eat breakfast?
Meli Cafe in Greektown. Close second is the world-famous Golden Apple diner.
3. Are you on Twitter? Why or why not?
Absolutely. I don't tweet nearly as much as I used to, but I'm still an active follower. It's just a delicious way to absorb quick hits of fun information and updates without having to actually invest any real time. My twitter name is @mattstratton
4. What is your favorite Christmas movie?
A Muppet Family Christmas. I have to thank my wife for introducing me to this amazing movie. It's completely silly, and represents everything about the Muppets that makes me laugh. My wife and I probably quote from this movie at least weekly, and Kermit's "The heck you say" phrase is a staple of my lexicon.
5. Are you a good gift giver?
I would say I bat about .500 with gift giving. Sometimes I can be really amazing, but if I get pressured to come up with something, I have been known to totally choke.
6. Do you like your handwriting? Bonus points for posting a picture.
My handwriting is terrible. I would blame our modern technology that keeps me from ever having to write anything, but it's been bad since 1984 or so, and I didn't have that excuse. My father is a doctor, so I like to claim that I have inherited his handwriting…funny thing is, my handwriting actually does look a lot like his. Although my mother has perfect penmanship, so I suppose that just means that the "bad handwriting" gene is dominant.
7. Is your signature legible? Bonus points for posting a picture.
Not in the slightest. This photo is of my most recent driver's license: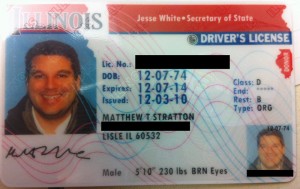 8. Have you ever been to New York during Christmas season?
I have…twice. That is, I've been to NYC for my birthday two different times (once was in 2000, the other was in 2005). Although both times, it was super quick and I don't remember much about the Christmas type things.
9. Are there any items that you are completely brand loyal?
Canon, when it comes to cameras. I'm also really brand loyal to Coke, although I do enjoy the odd diet Wild Cherry Pepsi sometimes.
10. Who is your favorite public speaker?
These days, I really love Steve Ballmer. While I don't always agree with what he has to say, the guy is really genuine when he speaks. I saw him speak at the SharePoint conference last year, and the Gartner Symposium this year, and both times I was really engaged.
---