Yes, I even get up early to do my workouts on weekends. Although I sleep in a few extra minutes, since I don't have to get to work…but Henry and Joey still get up at about the same time, so I can't sleep in TOO long. This morning I rocked out Kenpo X, which is the P90X workout that a lot of folks claim is the easiest…but that doesn't mean it is EASY. At least not to uncoordinated folks like myself.
Workout Summary
Kenpo X is a martial arts/karate oriented cardio workout. It's a lot of punches and kicks…okay, fine, it's ALL punches and kicks. And some blocks. In between each round, there is a break. My goal during the break is to do all of the jumping jacks (20 seconds worth) and the ten "X Time" jumps that Tony does.
I continued to accomplish that this morning, as well as gain a little bit more height in my kicks. One change this week – I didn't shut the curtains of the patio door, so I had a bit of a reflective surface to see myself in, and I can see that my form is NOT as good as I might have hoped. Gives me something to work on going forward.
Stats
Workout time: 58 minutes
Time in Zone: 37 minutes (64%)
Calories Burned: 125
Average HR: 134
DailyMile link:http://www.dailymile.com/people/MattS/entries/6255771
One more thing
You might remember that yesterday I found out that while doing Wall Squats, I managed to put a dent/crack in our family room wall. Here's what THAT looks like.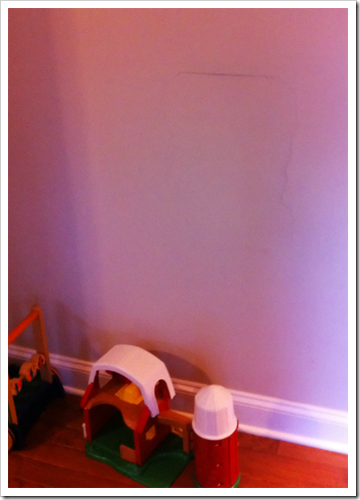 So needless to say, I'm going to be spending some time on Angie's List today looking for a drywall dude.
Inspired by Tori, I have decided to do daily blog posts about my P90X workouts. I have also created a specific RSS feed for just my P90X posts, for those of you who are only interested in that (it will include my weekly wrap-up posts as well). This feed can be subscribed to by clicking here. Please let me know what you think of these daily posts or any feedback you might have about my workouts in the comments!
---